Income, or rather the lack thereof, has been a major contributor to tenants' early cancellation of lease agreements, the drying up of demand in 2020, and pushing up of vacancies.
TPN, South Africa's largest credit bureau to specialise in vetting tenants for rental properties, predicts negative rental escalation as a climb in vacancies forces landlords to negotiate decreased rentals.
READ: What happens if landlord sells or tenant wants to cancel lease?
"The numbers are exploding, but not in a good way," says Managing Director Michelle Dickens in the latest TPN Vacancy Survey for Q4 of 2020 – which reveals a market in excess.
South Africa, with a total population of 17.2 million households, has rapidly risen by 29% over 10 years. Tenants increased to 3,7 million households renting – a growth of 33% over 10 years. "And yet, out on the streets, landlords are experiencing increased vacancies, pushing up to 12.91% in the final quarter of 2020," says Dickens.
SEE: SA's 'rental price crash continues'
A quick tally of the numbers by TPN shows that 3.7 million households live in rented accommodation with 3 million households renting formal housing. Two million households rent a house, flat, apartment, cluster, townhouse or semidetached dwelling; and just under 1 million households rent a backyard house, flat or room, granny flat or SQ. Leaving 762 thousand households who rent traditional or informal dwellings.
"To put it bluntly, there is no shortage of demand for housing," says Dickens.
"The encouraging news is that vacancy rates have started to recover in three of the four main provinces: Western Cape, Eastern Cape and KwaZulu-Natal but Gauteng continues to deteriorate with 14.66% vacancies in Q4 of 2020, pulling the national average up."
Source: TPN
Gauteng recovery hampered by deteriorating Demand Rating, dropping to 51, the lowest on record. And a shift in Supply Rating to 76, the highest on record. A gloomy outcome producing a Market Strength Index of 38, also the worst on record, pointing to a market of extreme excess supply.
Source: TPN
To the relief of most landlords, Western Cape has an acceptable vacancy rate of 9%. The more affordable Northern Suburbs which give more "bang-for-your-buck" properties will be delighted with the low 5.1% vacancies.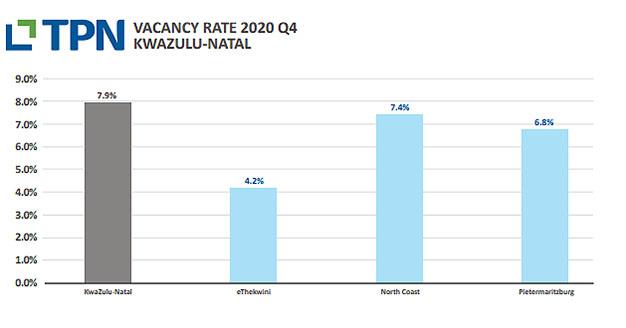 Vacancy Rates all single digits; overall KwaZulu-Natal vacancies are at 7.9% with eThekwini a mere 4.2% and even the luxury North Coast only 7.4% vacant.
"But let's not forget KwaZulu-Natal also holds the record for worst performing rental payment behaviour, only 73.55% of KZN tenants are in good standing," says Dickens.
Impact of development on residential housing stock
A quick review of the latest Building Statistics might provide helpful insight into the dramatic increase in residential housing stock completed in the prior year.
Noticeably, the Gauteng province stands out, surging with 25,513 residential houses and flats completed in 2019. No doubt adding to the increased rental supply. 2020 was a tough year for construction with only 7,907 residential units completed in the 10 months reported to-date (January to October). Whereas Western Cape residential construction remains fairly flat post the boom years, there is consistent new development year-on-year helping to filter in rent stock without flooding the market.
In comparison, KwaZulu-Natal and particularly the Eastern Cape suffering from very little residential construction with a mere 1,563 and 488 new builds in the first 10 months of 2020.
READ: Low 7% interest rate and downscaling trend makes it cheaper to buy than rent
Market Strength Index
Market Strength is a balance between supply and demand. The Demand Rating bottomed out at 53 in Q3, but has shown signs of recovery to 56 in this last quarter, nothing exciting, but a positive shift in trend in the right direction. The Supply Rating topping out at 70 in Q3, but holding relatively flat at 69 in quarter four.
The result is a Market Strength Index of 43; meaning the excess supply of rental stock, another variable driving up vacancies. A result of 50 is market equilibrium; any result below 50 indicates excess supply and a result above 50 indicates excess demand.
Affordability and security
"Shelter is the first of Maslow's hierarchy of needs and security the second. Tenants agree, as reported in the recent TPN Tenant Survey where price was the number one factor and security the second most important factor for choosing where to rent," says Dickens.
READ: What tenants want? | Two things landlords can do to secure good tenants
"Residential property is an asset that will always have a market, but the market shifts. Today's market requires a careful balancing of price, affordability, maintenance, security and rising municipal expenses. Careful planning and consistent management of these variables wins in the end," says Dickens.